Multichat
Multichat and SLS have been partnering for a while now and, together, we aim to bring quality and innovation to the promising domain of automated chat software. Multichat is an expert in designing customized solutions that help companies reduce their labor force costs and maximize the efficiency of their marketing endeavors.
All these sound great, but what does Multichat actually do to help you achieve these goals? The answer is automation. Multichat can craft tailored solutions that automate some of your business processes, allowing you to invest more time and energy in solving essential problems or focusing more on strategy and development.
There is virtually an unlimited number of automated solutions Multichat can design based on your need and goals. These developments are based on bots that can work relentlessly, 24/7, to deliver your services, help you promote your company, and communicate with clients and leads on your behalf.
To help you gain a better understanding of what Multichat can do for you, here is a concrete example.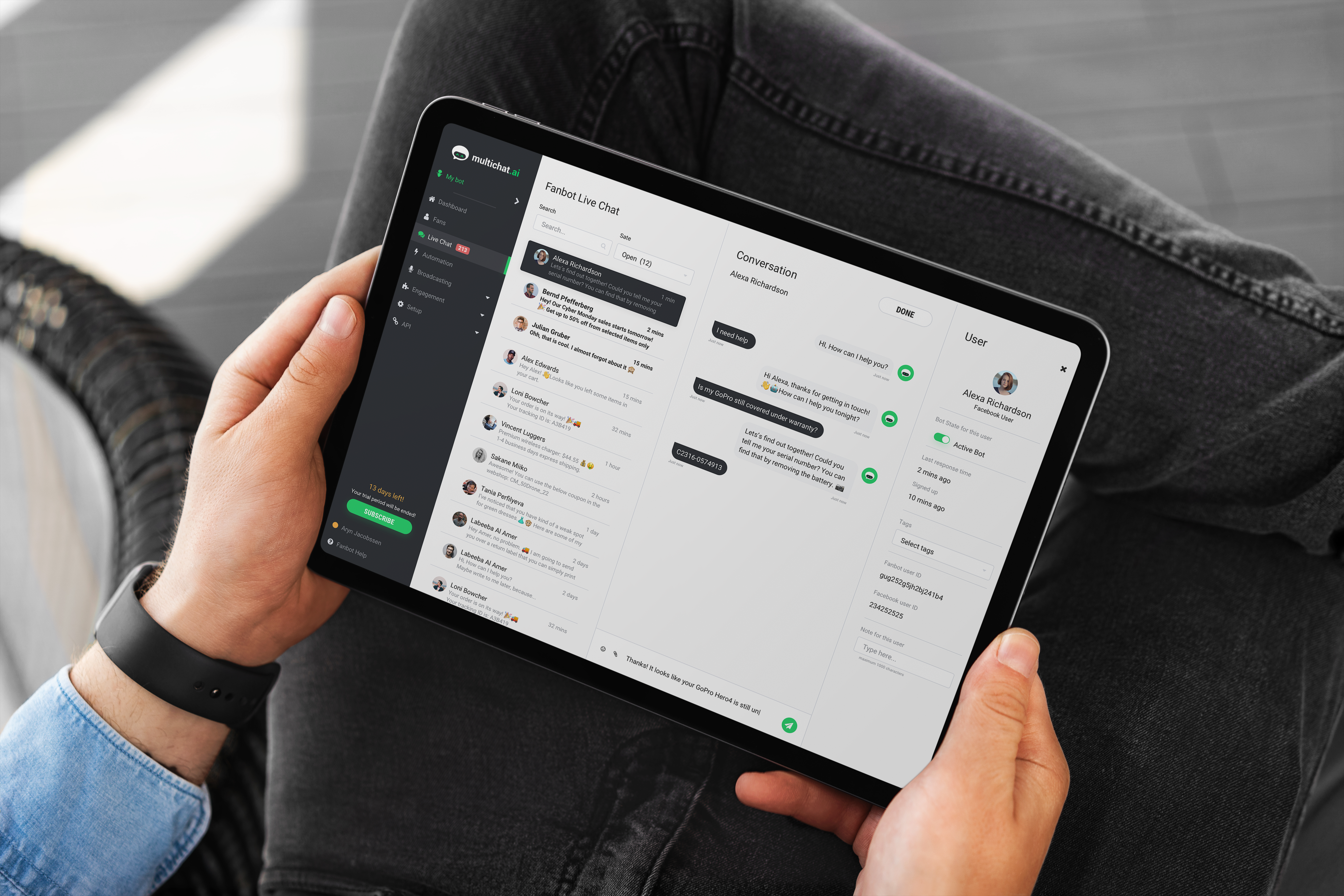 Let's think of a company that advertises its services online and needs more exposure and better marketing outcomes to stop lagging behind its competitors. This company can gain the business advantage it seeks by teaming up with Multichat who designs a chatbot solution that can handle the company's marketing communications. This means that once a customer sees a well-tuned ad and clicks on it, they land on the company's Facebook page where the chatbot instantly begins the communication.
How does it do that? By asking relevant, straight to the point questions that allow it to assess the person's need. The bot's complex structure incorporates all the information needed to provide exhaustive answers to all the client's pertinent questions. Moreover, it can be designed to do this in several languages. At the same time, Multichat can integrate options that allow the person to instantly switch to a conversation with a human agent if needed.
What's the efficiency of such an automated solution? According to statistics, 80% of these conversations carried out by bots pursue users to enter all the required data, which is an incomparably higher rate than what you normally get with email campaigns or browser-based processes. Moreover, what makes a real difference is that after the first query, the user can easily be found in Messenger. The rate of reading messages here is approximately 98%.
Key Features of the Multichat Technology
Multichat designs customized solutions that allow you to:
easily integrate all your conversations with clients, across multiple channels including social platforms
engage leads through automation and achieve the same sales results you would get with experienced salespeople
offer personalized support at any scale with the help of customized bots that support your clients 24/7, all year round, responding instantly to any query
implement conversational marketing campaigns that ensure significant engagement and conversion rates
get accurate data from your automated conversations and measurements regarding your customer's preferences
easily see and track the performance of your conversations, which allows you to predict the outcome of future endeavors and make smart data-driven decisions.